Investigations on the Consideration of Subsoil Stiffness for the Integrated Dynamic Design of Wind Turbines
Prof. Dr.-Ing. Martin Achmus / Dipl.-Ing. Arne Quast
Introduction
For the design against fatigue of the relevant components of a wind turbine, one needs the exact loadings and the dynamic behaviour of the rotor, tower and foundation. The foundation is normally modelled through moment spring and moment dashpot elements, which depend on the shear modulus and the Poisson ratio of the subsoil.
Investigation

In a complete/integrated dynamic system, the subsoil is usually represented as simple equivalent springs and dashpots (fig. 1).

The contributing parameters for the equivalent springs are the dynamic shear modulus G or the dynamic elastic modulus , respectively. To date, for wind energy plants, the dynamic shear modulus Gmax is used, which is valid for very small strains. However, it is currently being discussed if this is appropriate for loads from wind gusts that last several seconds only. A conservative value from the static subsoil stiffness, which is 5 to 10 times smaller, could be more suitable for design calculations. The dependency of the shear modulus and damping from the occurring strain is shown in fig. 2.
The question is: Which equivalent spring and dashpot should be used correctly in the model or which dynamic shear modulus should be considered, respectively.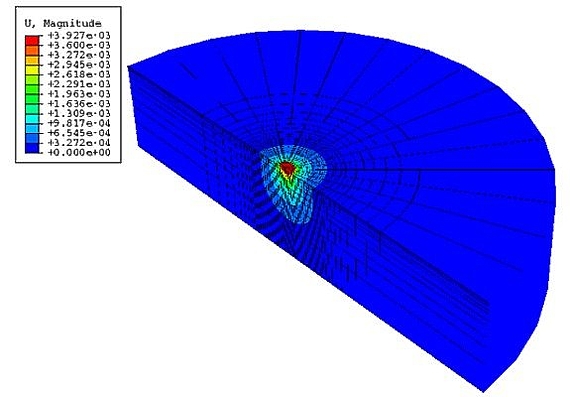 At the Institute of Soil Mechanics, Foundation Engineering and Waterpower Engineering, the dynamic behaviour of the subsoil is investigated using 2D and 3D finite element calculations with PLAXIS and ABAQUS. The adjustment of the shear modulus depending on the strain is made iteratively (fig. 3).