WMR Experimental Hall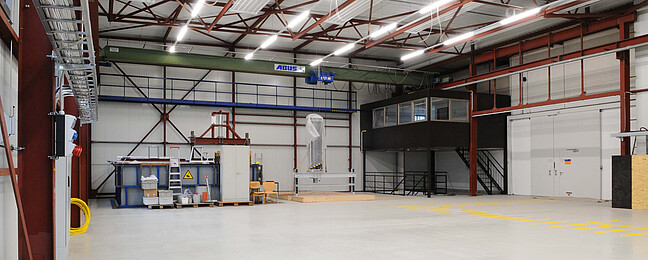 Experimental Studies
In the completely renovated WMR hall, tests for various research projects have been carried out since 2017.
The hall has a gantry crane with a hook load of 5 tonnes. Furthermore, the building is equipped with a hydraulic laboratory, a suspension laboratory and a workshop.
Tests are carried out on trenchless pipe-laying, cyclically axially loaded piles, penetration and load bearing behaviour of Sugeimer foundations, deformation behaviour of monopiles, foundation of wind turbines, etc.
Cyclically axially loaded driven steel piles
Investigation of the load bearing behaviour and the dimensioning of cyclically axially loaded driven steel piles
Test rig for the investigation of cyclically horizontally loaded piles
This test rig can be used for horizontal loading of small model piles with a large number of cycles. The model sand is poured into the test tank using the "funnel method" to obtain a homogeneous sand body with a defined compactness.
Contact person:
Test rig for trenchless laying of pipelines
In this test rig, the frictional behaviour of district heating pipes under cyclic load is investigated.
Contact person:
Dipl.-Ing. Tim Gerlach